Hotel Do De (Bellefonte, PA) | an erasure of sorts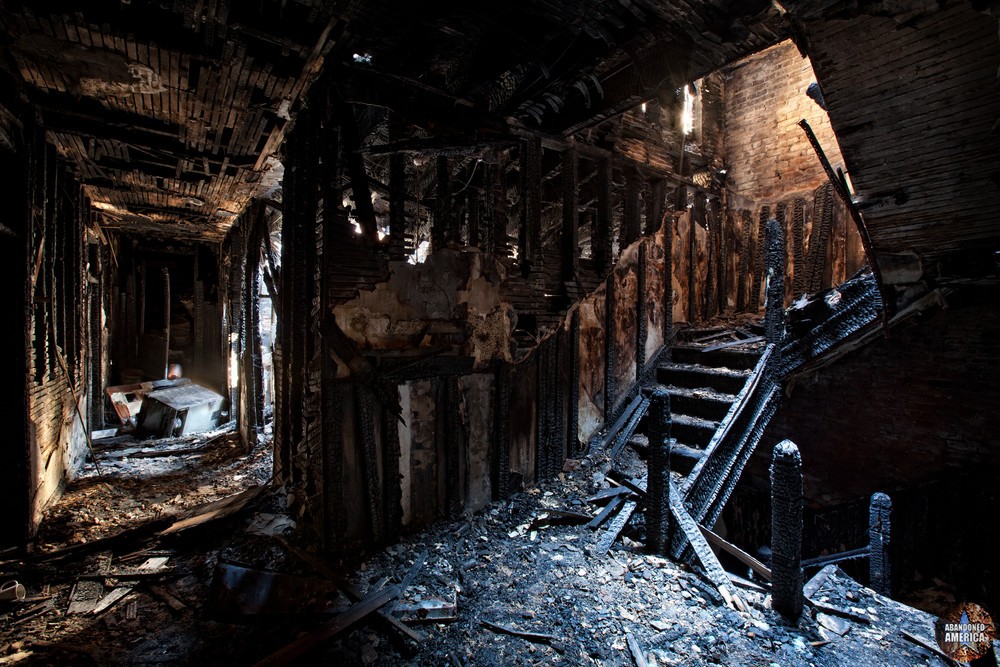 where it seemed like there was a purpose to all of this.
I'm not sure what it was:
maybe it was in some sequence of events that I could affect,
maybe in acquiring things,
maybe in making the ever important numbers increase.
It was about getting more, about the illusion of control,
about not spiraling out of my depth into the darkness
but I did anyway.
Then there was that day,
that day where I looked at everything I had put together
and it struck me how mind-bendingly pointless it all was.
I had never cared, even though I tried and
I certainly couldn't pretend I did any more.
I had known it was all a joke all along, a
joke with no punch line, something
you mumble over and over again to yourself and pretend it's funny
but if someone else heard it they'd be frightened.
The day of the fire I was
relieved, really. It felt like I was free.
All those things, all those hopes -
swallowed by flame and lifted in cherry-red embers
up into the sky, far away, where someone else would tend to them.
I knew it was where everything I had done was meant to be.
Laughing until tears cut through the lines of soot on my face,
I told the heavens they could keep it all.
I didn't want it any more, I didn't want anything.
Sitting up there in the dark amidst
the shadows of familiar things now twisted and blackened,
with lazy ashes swirling in the last fleeting rays of sunshine,
I knew I was where I belonged.
This was what it all had been leading up to all along:
an erasure of sorts, a long sigh,
and then the silence.
-------------------------------
'an erasure of sorts'
Hotel Do De, Bellefonte PA. 2014
Photograph and text by Matthew Christopher of Abandoned America. If you'd like to learn more about this location, it is a featured chapter in the book
"Abandoned America: The Age of Consequences," which you can order signed copies of here.
It's also available (unsigned) through
Amazon
/
Barnes & Noble
/
Powells
/
Indiebound
/
Booksamillion.
You may also be interested in my new book,
Abandoned America: Dismantling the Dream, available on Amazon
,
Barnes & Noble
, and many other online booksellers across the globe.
There was a point - it seems like so very long ago -