Norwich State Hospital (Preston, CT) | Auditorium Door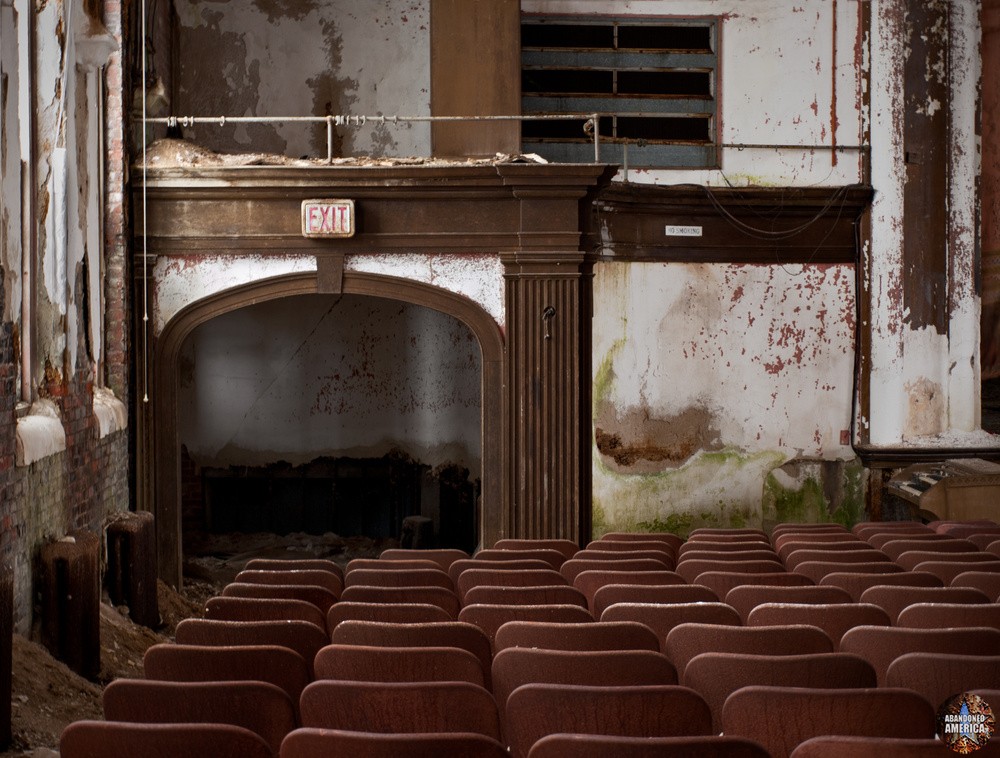 State hospitals, much like prisons, are one of the few types of sites people will sometimes say that in their eradication show social progress. Having worked in the mental health field for a decade, I would argue that it is true that the care they offered needed a radical adjustment to allow for more community involvement and integration to reduce institutionalization and stigma (among many other things), and that overcrowding/underfunding were a large part of what led to the problems they were known for. Still, the idea of having large mental health hubs with centralized resources and trained staff is not a bad one. The asylums/institutions were created to address a need for care for the ill. Their closure represents more of a triumph over mental health care funding and resources, which have been steadily eroded in the years following the mass exodus from the asylum system.
Do I believe that the ill should be locked away for years in the overcrowded, abusive, and restrictive environments that asylums became? Absolutely not. Do I think that the closure of the state hospitals represents progress when the lack of resources, funding, and adequate care that led to them being viewed as problematic is just as bad if not worse? Not a bit. All we accomplished was allowing beautiful buildings that were created at enormous taxpayer expense to rot away. Then, we pat ourselves on the back when we tear them down as though it's some sort of victory, like we are more enlightened and wise than the people that built such places to begin with.
Tearing down Norwich doesn't represent progress at all. It represents shortsightedness, waste, and an overall foolishness that I find difficult to even articulate the rage and disappointment to express. We have let these places fall to ruins, cheer as they erase them, then wonder that we have nothing left.
------------------------------------------
Norwich State Hospital, Preston CT
Photograph by Matthew Christopher of Abandoned America. If you'd like to learn more about this location, it is a featured chapter in the new Abandoned America book
Abandoned America: The Age of Consequences.
Signed copies are available through my website
, or you can find (unsigned) copies available through
Amazon,
Barnes & Noble,
and many other online booksellers across the globe.
Detail view of the theater exit at Norwich State Hospital. The theater is one of the buildings they are currently demolishing.