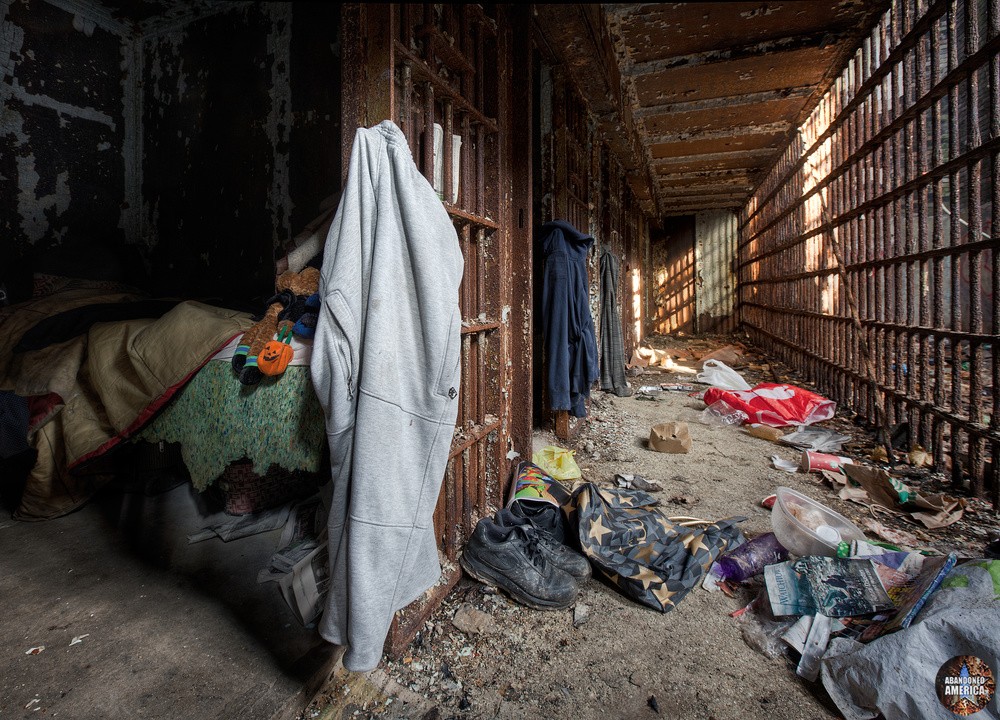 Is there an element of almost perverse voyeurism to viewing the tragedies of others through an image? Perhaps, but I would argue that without the ability to see these things we can never really even begin to understand or empathize with them. I have become hardened by many of the things I have seen in life, but it is impossible not to feel a tremor of awful aching compassion for whatever unfortunate person hugs this to their chest for comfort during their high in a freezing winter night in this trash heap of a derelict prison. The question it asks of the photographer is a terrible one: how could I possibly save this person? How could I save this place? What could be done to prevent this? And if the answer is nothing, is observing and sharing it in and of itself somehow wrong?
Photograph of the Essex County Prison in New Jersey by Matthew Christopher of Abandoned America. If you'd like to learn more about this location, it is a featured chapter in the book
"Abandoned America: The Age of Consequences," which you can order signed copies of here.
It's also available (unsigned) through
Amazon
/
Barnes & Noble
/
Powells
/
Indiebound
/
Booksamillion.
You may also be interested in my new book,
Abandoned America: Dismantling the Dream, available on Amazon
,
Barnes & Noble
, and many other online booksellers across the globe.
The interior of the Old Essex County Prison (built in 1837) is a mess of rust, deteriorating superstructure, garbage, and the detritus of the people who currently live there. In this cell block the few meager possessions of a handful of otherwise homeless squatters give an insight into a bleak existence: across from these cells, resting on the bars are the cobbled together tools for cooking and injecting herion. While I did not actually enter the cells they lived in because it seemed somehow disrespectful (as well as careless and foolish from a more selfish standpoint), the ratty stuffed bear with the little felt halloween pumpkin on the bed filled me with a depthless sadness. This toy had been meant for a child, but was now apparently some measure of solace for someone whose life has been so destroyed by drug use that they are living in a cold, miserable abandoned prison.