St Bonaventure Church (Philadelphia, PA) a requiem for St. Bonaventure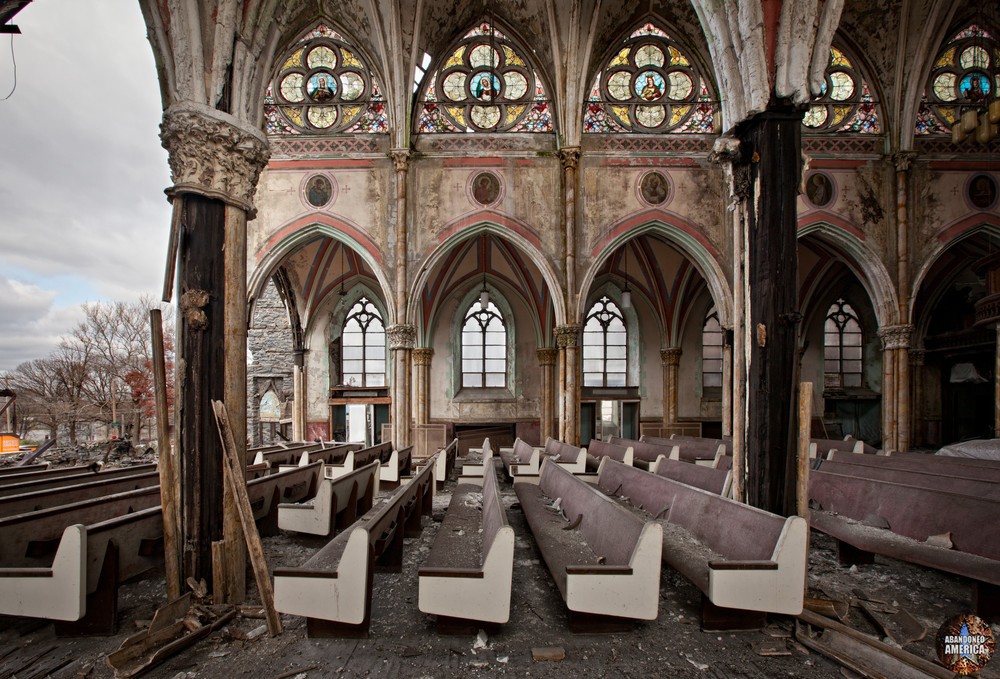 The destruction of a true work of art is never something to revel in, in my opinion. The erasure of a beautiful cathedral like Philadelphia's St. Bonaventure, pictured above, is a tragedy for all, and an enormous hole torn both literally and figuratively in the community around it. The city was too lazy to take action as it rotted for years under the incompetent, absentee 'stewardship' of New Life Ministries, and then too shortsighted and (again) lazy to bother seizing the building via imminent domain and stabilizing the steeple for $77,000. Instead, they elected to tear the church and school down for a cost to the taxpayers of over $1 million, so that perhaps it can have a future like Transfiguration, another Philadelphia jewel that now is little more than a trash-strewn vacant lot.
It should anger you if you're Catholic or Christian, but it should anger you if you're not as well. It represents the worst and most wasteful theft of all, that in which something that was of incalculable value is taken and then senselessly destroyed.
Farewell, St. Bonaventure. You deserved so much better.
-------------------------------
'a requiem for St. Bonaventure' taken at the demolition of St. Bonaventure Roman Catholic Church, December 2013.
If you'd like to learn more about this location, it is a featured chapter in the book "Abandoned America: The Age of Consequences," which you can
order signed copies of here.
It's also available (unsigned) through
Amazon
/
Barnes & Noble
/
Powells
/
Indiebound
/
Booksamillion.
You may also be interested in my new book,
Abandoned America: Dismantling the Dream, available on Amazon
,
Barnes & Noble
, and many other online booksellers across the globe.
Photograph and unattributed text by Matthew Christopher of Abandoned America.
I truly wish that people would stop viewing cathedrals (and, by extension, all faith-related structures) as symbols of religious doctrine that they either agree or disagree with, and thus dictate their value by. Instead, regardless of one's beliefs, it is vital that we see them for the effort and artistry in their construction, and for the irreplaceable collection of cultural and historical artifacts they frequently contain.