Carrie Furnaces (Rankin, PA) | until the day I die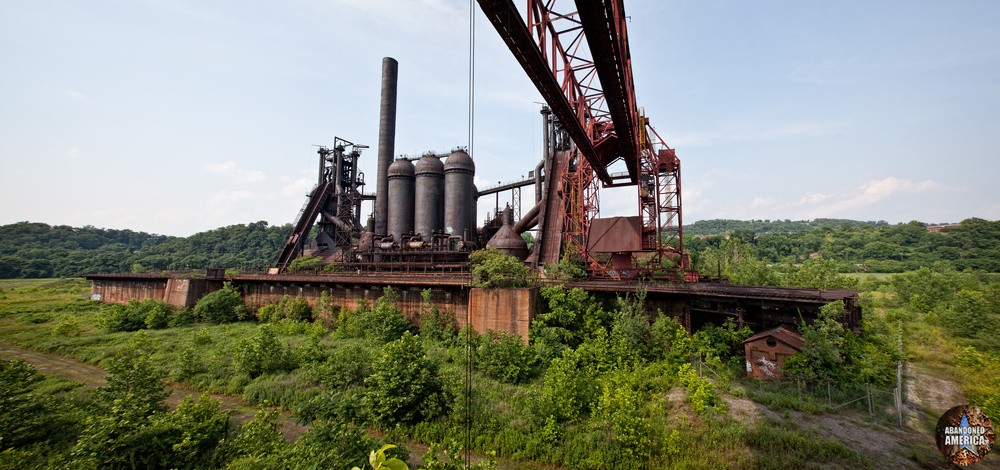 The next morning she was ill, and though the plan was that she was going to accompany me on the photo shoot she decided to stay in bed instead. I couldn't blame her; she felt awful and I could understand her need to stay inside with the lights off and the shades drawn, sleeping as much as possible until the pain went away. I knew she probably wouldn't have enjoyed the trek anyway. The trip ahead was arduous - it required plowing down a steep, overgrown hillside that used to be the employee parking lot, then down another steep grade, climbing between parked railway cars, hiking alongside another active and raised railway, climbing onto it and hiking back, then down another steep embankment and across a field to the site. By the time I reached the fence I was already tired, but nonetheless it was exciting. The furnaces towered above me, blocking out the afternoon sun like catwalk-encrusted turrets on an industrial castle. Surrounded by an overgrown but otherwise empty field where the rest of the facility used to be before it was torn down, the remains of Carrie Furnaces number six and seven were still more than enough to keep me occupied. Two long mill buildings, several other smaller auxiliary structures, and a marooned segment of elevated railway that no longer connected to anything were just the beginning. Hundreds of stairs that twisted up and around every conceivable surface all seemed to hold the promise of that perfect shot, and a massive crane stretched what seemed to easily be a hundred feet in the air, daring me to walk across it.
Most importantly, I was the only one there, perhaps the only person anywhere within a mile of it. There was no need to try to explain who I was or what I was doing. I set up my camera, and soon enough I was in that peaceful state of oblivion where I am only concerned with framing my shots and chasing down whatever it is I look for in these places. Years ago these furnaces would have been swarming with people doing all sorts of tasks that were completely unfathomable to me now. They would have perhaps been loading the coal chutes, checking the various gauges, yelling and sweating and making their paychecks. When I arrived, I passed through the empty alleys between buildings and there was nothing but wildflowers swaying gently in the wind and the continuous whirring of my camera's shutter. I walked up and down more steps than I can even recall that day, and despite (or perhaps because of) the fact that I have a fear of heights I made myself walk across the gantry of the crane and looked down on the autumn reds and yellows in the trees I could see far off on the horizon. Aside from the flora the only life I saw was a buck who bounded through the brush below me, then was gone. He probably didn't even know I was there - and within a minute he was off again on his own path, to events and conclusions I will never see or know any more than he will know my own.
As the sun went down I grew weary and knew I needed to head back. It would be a long walk, back up steep embankments and across the railroad tracks to a place where there was running water, air conditioning, and food. As appealing as the pleasures of modern life can be, sometimes it can be very difficult to leave sites like the Carrie Furnaces. That day it was. I think a part of me stayed there, and may never return. I suppose it is only fair, in that I have taken fragments of the Carrie Furnaces with me that will remain in my dreams and memories until the day I die.
--------------------------------
Carrie Furnaces, Rankin PA. 2009
If you'd like to learn more about this location, it is a featured chapter in the new Abandoned America book
Abandoned America: The Age of Consequences.
Signed copies are available through my website
, or you can find (unsigned) copies available through
Amazon,
Barnes & Noble,
and many other online booksellers across the globe.
I also teach photography workshops here periodically;
to check availability follow this link
.
Photograph and unattributed text by Matthew Christopher of Abandoned America.
My love and I traveled to the city the night before, to attend the wedding of one of her friends that I had never met. It was an extravagant affair, full of music and delicious food bought by some kind benefactor who I did not know. As the evening wore on I found myself wandering through a crowd of strangers, surrounded by people who spoke the same language but whom I barely comprehended. I blended into the crowd, but I was not one of them. They spoke of events I had not witnessed, told jokes I didn't get, had bonds that I had no part in forging. I doubted they would have understood me either. I doubt they would understand why such joyous, fleeting events fill me with such sorrow sometimes, something I don't fully understand myself. Even in the few occasions I had to explain who I was to another guest, my words sounded hollow, as though I was making excuses for some transgression I wasn't aware I committed. I drank in hopes that it would loosen me up, but instead I only became more and more lost in my own thoughts. I wanted my girlfriend to be happy at the wedding, to have fun. I wanted her to be able to enjoy seeing someone with whom she was so close and who she had not seen for so long. There was no way that I knew of to explain what was wrong with me anyway. I smiled and made small talk, but inside I was somewhere else. When we returned to the hotel we both passed out and that was the end of it.