very odd indeed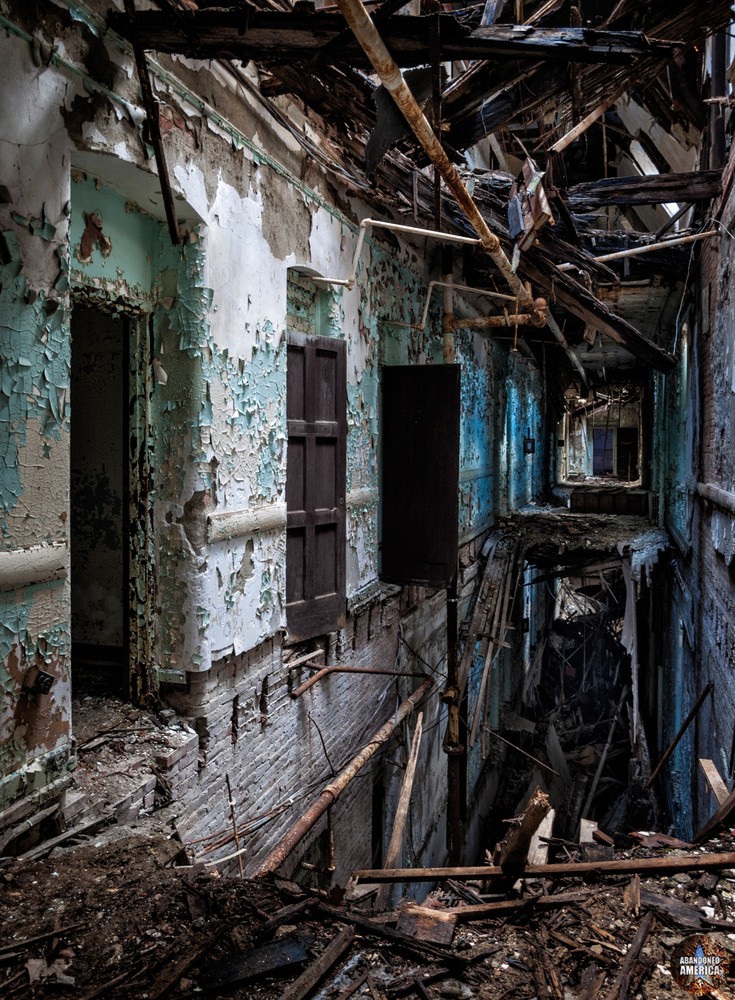 In an ironic twist, the much-contested (and extremely expensive) yellow pine floors fared far less impressively over time than those made of other materials. The epic scale of the structural collapse, combined with a devastating fire, make Algonquin River quite possibly the most deadly building in existence. Floors like the one shown here give way into gaping abysses, punji pits full of sharp, splintered boards fanning out from the basement like jagged teeth in the ever-hungry mouth of death itself. To take this photo I had to make it from the crumbling doorway on the left onto the sagging mess in the extreme foreground. The floor shifted beneath my feet and with my added weight dust and debris slid ominously into oblivion below. It was quite possibly the most frightening moment of my life, second only to the one where I had to get back into the doorway with no real solid ground to support me as I inched closer.
I may not be terribly afraid of death. I may even wish for it at times. I am, however, afraid of being paralyzed, of falling onto a rotted shard of floorboard and laying impaled and broken for hours, with no real help available. I am not too proud to admit that I wanted nothing more than to stay in the relative safety of the door frame, or that I am glad that I may never again have to make the nerve-wracking leap of faith back to this hall's only point of entry.
That being said, I would do it again if I had to. There is no better example than Algonquin that all things fall apart, and I feel a certain kinship with it. We are both collapsing inside, and it is an odd thing to see before your very eyes what you imagine your own heart looks like.
Very odd indeed.
------------------------------
Photographs and text of Algonquin River State Hospital by Matthew Christopher of Abandoned America. If you're interested in more Abandoned America blogs,
follow this link
. If you enjoy my writing, check out my books:
Abandoned America: Dismantling the Dream
(
Amazon
/
Barnes & Noble
) or
Abandoned America: The Age of Consequences
(
Amazon
/
Barnes & Noble
/
Signed copies
).
Easily one of the grandest and most ornate asylums ever built, Algonquin State Hospital was a cause of great local controversy during construction due to running far over budget. The extravagance is evident in the beautiful stonework, the ornamental woodwork, the stained glass windows with their decorative yet functional iron grating. Olmsted, the man who designed Central Park, laid out the grounds and the span of the wings is half a mile, if you walked end to end. To do so now is impossible.
Comments
By Lynn Murray:
I felt drawn to this photo and didn't understand why. Was it the doors with no floor, the fabulous shade of blue, the loss in the destruction. I then read what you wrote to go with this photo. Wow. And Chilling. And quite accurate.