Tourist Class Theater | SS United States (Philadelphia, PA)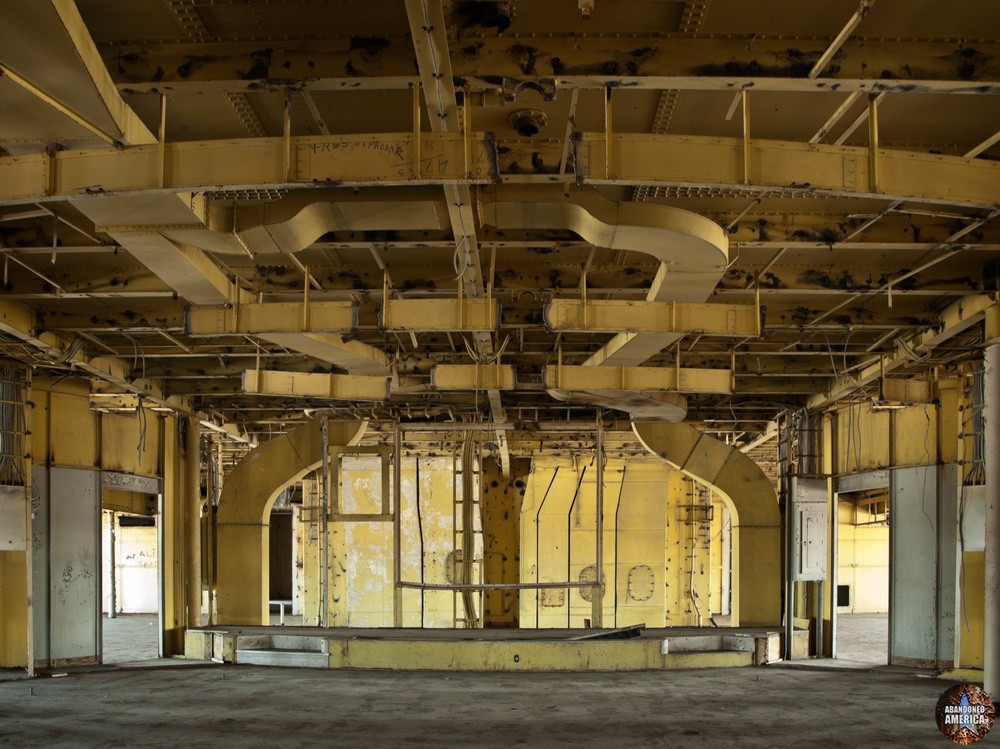 EDIT: Richard Billig wrote to me, "One comment - I believe that the photo labelled "First Class Ballroom" is almost certainly misidentified - it would appear to be a photo of the Tourist Class Theatre, looking aft. The openings just left and right of the stage would be into the First Class Observation Lounge. Those openings would not have been visible when the original interior walls of the theatre were in place - those walls followed the dark lines on the floor in the photo, ending at the edge of the steps to the stage.
Were this a photo of the Ballroom, and the small stage in the forward part therein, one would see a rather different ceiling arrangement, due to the circular "skylight" that popped up one deck in that room."
While it was identified to me as the ballroom by the Port Authority Worker who led me through, Mr. Billig certainly presents a good case for it being the theater and the description has been amended.
If you'd like to learn more about Philadelphia's lost ship the SS United States, it is a featured chapter in the new Abandoned America book
Abandoned America: Dismantling the Dream, available on Amazon
,
Barnes & Noble
, and many other online booksellers across the globe.
Signed copies are available here.
Photographs and unattributed text by Matthew Christopher.
There is little left of the tourist class theater that indicates the once stylish decor. Because stone or metal would add to her weight, all adornments had to be light. William Francis Gibbs, the SS United States' architect and engineer, was terrified of the prospect of a devastating fire at sea, and so very little wood was used in her construction - in fact, it was popular among her designers to say that the only wood on the ship was the butcher's block. So great was the usage of aluminum that at the time the 2,000 tons used was the largest order ever placed for the material. Asbestos, a fire retardant, was also used in copious amounts. Sadly, this last fact led to the gutting of the Big U in 1992, when she was towed to Ukraine and her interiors were entirely stripped of the toxic material and nearly everything else. The substructure is in excellent condition, and the time- and cost-intensive prospect of abatement is already out of the way, so recreating the interior would be relatively simple compared to many of the abandonments I've encountered.