soon enough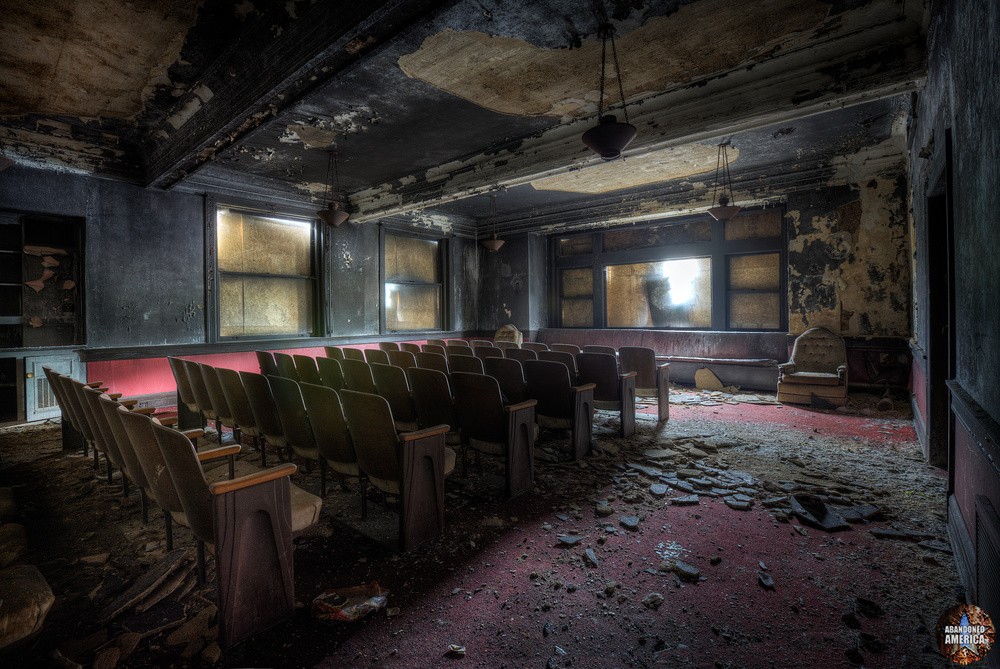 paint peeling off and plaster dropping away to reveal
all the sorrow and misery underneath that had been there all along.
there were rows of chairs as though it were a theater, yet
there was no screen or stage -
just boarded windows that kept out the sun.
in the rows of seats i saw the dead, staring ahead with obscured faces
patiently waiting. they were silent and still, and presently
a flickering white light began to pour through the window ahead.
at first it was only a tiny spot, but slowly it ate its way
through the window coverings and began ripping through the walls
in jagged fissures of blinding brilliance, and pieces of the
windows and the ceiling and the lights - everything - were pulled off into it.
i could tell this was what they had been waiting for,
and i wanted to join them, but there were no seats left for me.
one by one the figures in the rows were lost, atomized,
and i reached out towards the one that was closest as though to pull them back,
and for a brief moment they turned towards me, silhouetted,
their features lost in the contrast between shadows and illumination.
i could sense that they pitied me, that they knew i had been waiting too,
and i felt them say, 'soon enough', -
and then they were gone.
and as i lay in my bed in the darkness of the early morning hours,
i thought they were the ones who had been awakening
and i was the one who had fallen back asleep -
but it was all forgotten soon enough
in the senseless bustle and clamor of the days ahead.
------------------
Photograph of the New Castle Elk Lodge taken about a month before demolition, by Matthew Christopher of Abandoned America If you'd like to learn more about this location, it is a featured chapter in the book
"Abandoned America: The Age of Consequences," which you can order signed copies of here.
It's also available (unsigned) through
Amazon
/
Barnes & Noble
/
Powells
/
Indiebound
/
Booksamillion.
You may also be interested in my new book,
Abandoned America: Dismantling the Dream, available on Amazon
,
Barnes & Noble
, and many other online booksellers across the globe.
and in my dream i saw a room, scorched by fire with