Lee Plaza Hotel (Detroit MI) | the point at which it no longer matters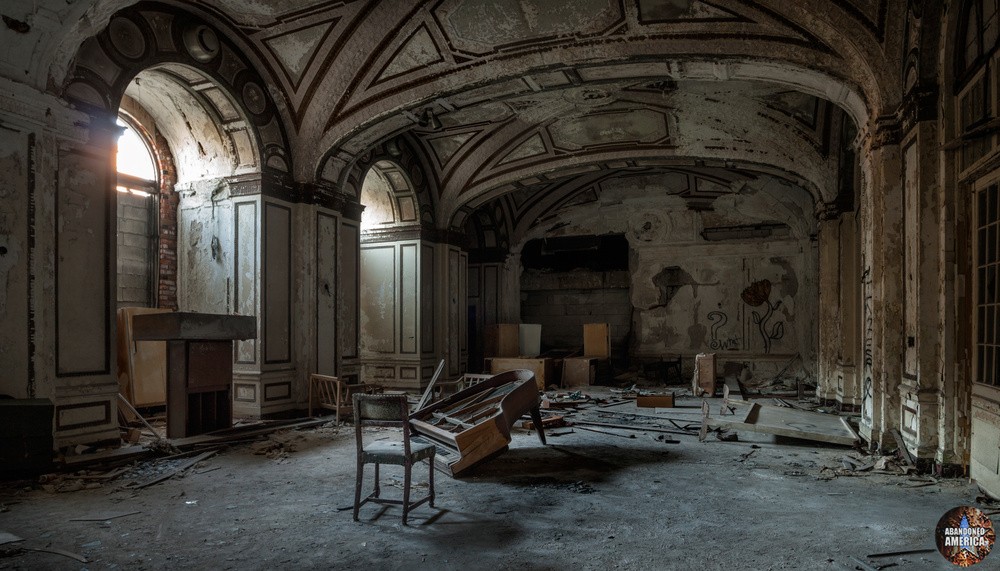 Like many of the abandoned buildings in Detroit, there is no possibility for rehabilitation. The building is a rotted shell, and despite once being a prime example of art deco architecture, and of the magnificence of the city and the nation that gave birth to it, it is now beyond repair.
The salvagers and vandals have taken everything. You can still see an echo of what it was if you follow the lines of the arches over the bricked up windows, the molding along the vaulted ceilings of the ballroom. It's faint, but it's there.
The Lee Plaza will come down one day, and for the most part the world will be ignorant of its loss. Most of the people who knew it when it was worth saving will be long gone, and it is simply too hard for the rest to mourn one more building in an entire metropolis of crumbling monuments.
I didn't know the Lee Plaza. I never will. I don't know what it is, what it was, or what it could have been. I only know what little I could see on the warm September afternoon I visited it: it was once very beautiful, and it has been ruined not so much by time and the elements as by the cruelty and capriciousness of the very creatures that built it. There is a point at which it no longer matters - for people, for cultures, for cities, for buildings - a point when there simply is no hope left for salvation. The damage is too extensive, the cost of repair too great, the sickness too far along its progression. There is nothing left to do but wait, and, if you have the stomach for it, to watch and chart, via words and photographs, the course of the descent.
-----------------------------------
Photograph of the Lee Plaza Hotel (Detroit, MI), 2009. Image and text by Matthew Christopher of Abandoned America. If you're interested in more Abandoned America blogs,
follow this link
. If you enjoy my writing, check out my books:
Abandoned America: Dismantling the Dream
(
Amazon
/
Barnes & Noble
) or
Abandoned America: The Age of Consequences
(
Amazon
/
Barnes & Noble
/
Signed copies
).
Normally I don't give any identifying information on the buildings I photograph, in hopes that I will not be contributing to their destruction by publicizing their locations. The Lee Plaza Hotel is an exception. While still standing, there is so little of it left that to damage it any further would be almost impossible. The plaster has been torn from the walls, doors pried from their hinges, the windows systematically stolen, even the support columns have been stripped to little more than concrete and rebar. Graffiti covers nearly every surface, the roof has caved in, and everything that can be broken is.