silent witness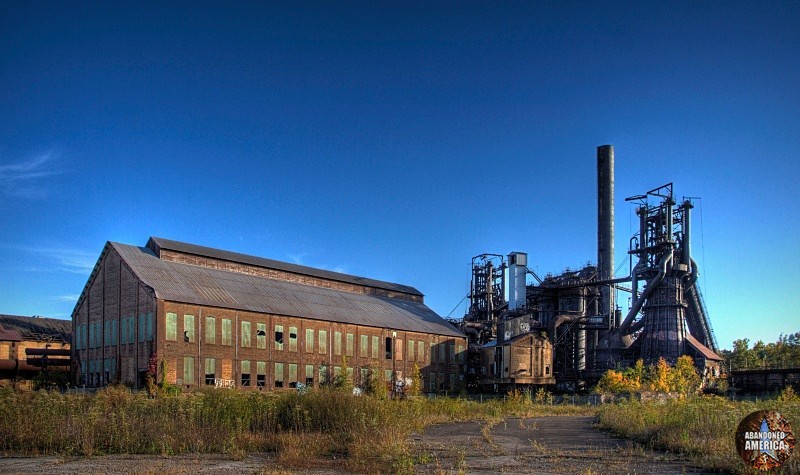 While Frick donated thousands to relief efforts, his reputation was already blackened, and when he came to Homestead he was prepared for a brutal fight with the union. When the union asked for a wage increase because of the prosperity and productivity of the steel industry, Frick instead offered them a rate cut of nearly a quarter of their wages as well as elimination of positions. He then declared that if the bargaining wasn't resolved in a month - and by bargaining, he meant the union accepting this humiliating deal - Carnegie Steel would no longer recognize them. He proceeded to fortify the plant with sniper towers, high pressure water cannons that could spray boiling water, and barbed wire fences.
The union retaliated by throwing up picket lines around the plant, organizing strikes in nearby towns, driving away strikebreakers, and refusing company officials access to the mills. The battle lines had been drawn, and Frick decided to bring in men from the Pinkerton Detective Agency to quell the uprising.
The Pinkerton Detective Agency was founded in 1850 by Allan Pinkerton, the man who developed shadowing and undercover work and who purportedly saved Lincoln from an assassination attempt in Baltimore on his way to being sworn in. The Pinkertons grew in number and reputation, hunting outlaws in the west, infiltrating the Molly Maguires, tracking America's first known serial killer, H.H. Holmes, and eventually eclipsing even the U.S. Army's numbers. By the time they were sent to Homestead, their image was much less noble - essentially they were mercenaries hired by company owners to break strikes by force, including coercion and allegedly even murder. Accounts vary, but between 300-400 Pinkertons armed with Winchester rifles were to ride upriver to the plant and retake it in the middle of the night.
The union was alerted and what would become one of the bloodiest labor disputes in the United States' history followed. A crowd of men, women, and children followed the barges up the river, throwing stones at them and occasionally firing at them. The crowd overtook the mill's defenses and when the Pinkertons tried to land they were greeted by an angry mob of over 5,000 people with guns, rocks, and clubs. It is unknown who fired the first shots, although it stands to reason that when confronted with such a disparity in numbers the Pinkertons would be unlikely to start shooting unless by accident or provoked. Several on both sides were killed and wounded, and the Pinkertons retreated to their barges.
For the next 12 hours a fierce battle ensued. Union members - among their numbers over 300 riflemen, snipers, and a cannon - rained fire down on the barges. The Pinkertons huddled, trapped as their own tug left and efforts to retrieve them by another tug were stymied. Newer recruits were desperate enough to attempt to swim away despite threats from their captain that he would shoot deserters. The strikers made burning rafts they floated downstream at the barges, threw dynamite at them, and dumped oil in the river and attempted to set it on fire.
Finally the Pinkertons surrendered. They were marched through town, spat on and beaten mercilessly (one had his eye put out by a woman's umbrella), and thrown into confinement at the town opera house. As negotiations with local and state law enforcement began, the strikers allowed the Pinkertons to be taken from the town on a special train. Their abuse of the Pinkertons had turned the public and the press against them, however, and though they had won it was a shortlived victory. A little less than a week later 4,000 soldiers were dispatched in a surprise attack on the town, surrounded the plant, and in about one hour the company once again had control over the mill. Martial law was declared and strikebreakers quickly restarted production.
Less than two weeks later an anarchist attacked Frick in his office, shooting him twice in the neck. Frick tackled him and the man stabbed him four more times before being dragged away to jail. In only a week Frick was back at work and the would-be assassin was jailed. 2,500 men plant workers had lost their jobs and the rest had their wages halved. The AA was defeated in several more strikes in other areas as the years passed and their numbers dwindled. The Pinkertons continued to break strikes and aid law enforcement until police departments modernized and eventually the FBI was formed. Their relevance dwindled and in 2003 they were acquired by Securitas Security Services USA, and in a ironic twist of fate are now unionized themselves.
While the Carrie Furnaces themselves were not directly involved in the Homestead strike beyond being silent witnesses, the ground they occupied was, and the nearby Rankin Hot Metal Bridge where the strikers assaulted the Pinkertons still stands. The local historical preservation group Rivers of Steel currently is working to save the furnaces and in the past has conducted guided tours of the grounds given by men who once worked there. If they are unsuccessful, this vital piece of Pittsburgh's industrial past will be lost forever, as will the opportunity to educate future generations about their heritage through the amazing experience that seeing the furnaces firsthand provides.
--------------------------------
Carrie Furnaces, Rankin PA. 2009
Photograph by Matthew Christopher of Abandoned America. If you're interested in more Abandoned America blogs,
follow this link
. If you'd like to learn more about this location, it is a featured chapter in the new Abandoned America book
Abandoned America: The Age of Consequences.
Signed copies are available through my website
, or you can find (unsigned) copies available through
Amazon,
Barnes & Noble,
and many other online booksellers across the globe. I also teach photography workshops here periodically;
to check availability follow this link
.
It all started when wealthy steel magnate Andrew Carnegie decided that the Amalgamated Association of Iron and Steel Workers (AA) had too much control over the Homestead steel mills. While publicly supporting unions, Carnegie appointed his business partner Henry Frick to break the union's hold in 1892. Frick, at one point known as 'America's most hated man', was a ruthless entrepreneur. Only three years earlier a poorly maintained earth dam at the South Fork Fishing and Hunting Club, an exclusive mountain club for the wealthy that Frick founded, gave way and released 20 million tons of water down the Conemaugh Valley onto Johnstown, erasing over 2,200 lives and $17 million in property in a matter of minutes.