Bethlehem Steel (Bethlehem, PA) | Atlas Deisel Electric Locomotive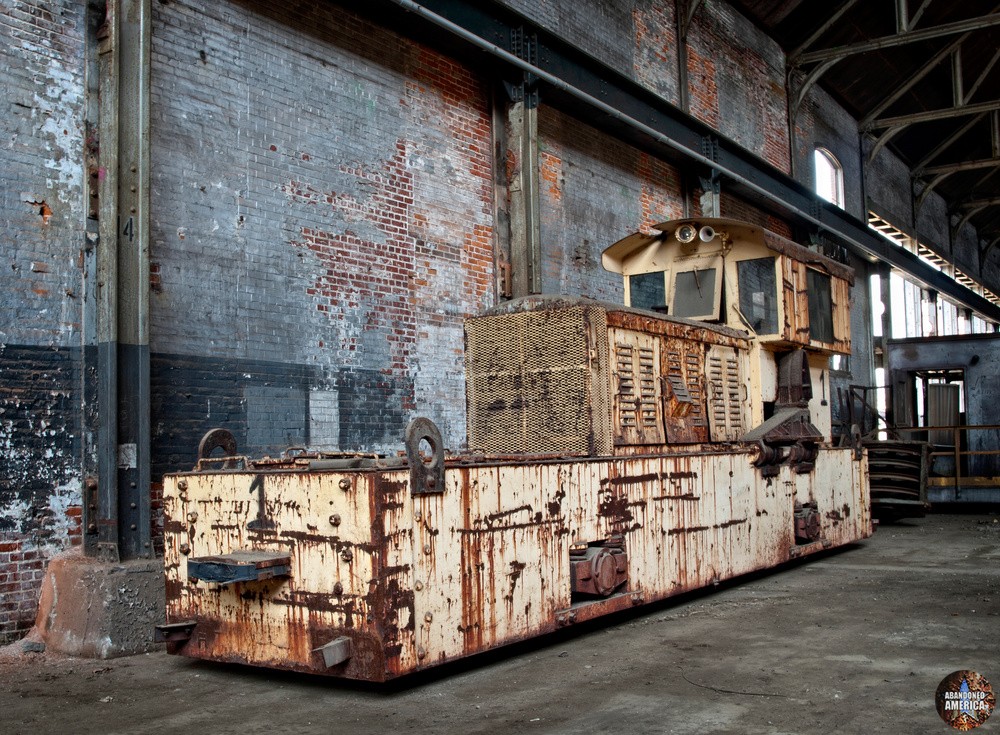 - information provided by the National Museum of Industrial History
---------------------------

Photograph taken in 2009 at the abandoned Bethlehem Steel complex in Bethlehem PA by Matthew Christopher of Abandoned America. The Bethlehem Steel site has since been incorporated into the Steel Stacks and Sands Casino.
Pictured here is a 55 ton, 42 inch guage (narrow gauge) diesel-electric locomotive. It was built in 1951 by Atlas Car & Manufacturing Company for the Pennsylvania Railroad, which used it at Pier 122 in Philadelphia, PA. The then new pier was built to unload imported iron ore and put it onto trains bound for Bethlehem and other steel mills. This unique locomotive, and three sister engines, were referred to as "shunt engines." Unlike other locomotives which couple to a train of cars and pull them down the track, this engine has arms that pneumatically lower so standard gauge cars on parallel tracks can be pushed by the locomotive. In practice, the locomotive ran on a horseshoe curve that connected the incoming and outgoing rail yards with the pier, where overhead bins dropped the iron ore (later taconite pellets) into rail cars. Although the pier has been demolished, aerial images from bing.com still show the site intact. It can easily be spotted along the Delaware River in Philadelphia between the Walt Whitman Bridge and the Navy Yard. The locomotive was moved to NMIH in 2005 and was donated by Conrail Shared Assets Railroad.