Bethlehem Steel (Bethlehem, PA) | Resting Scale Car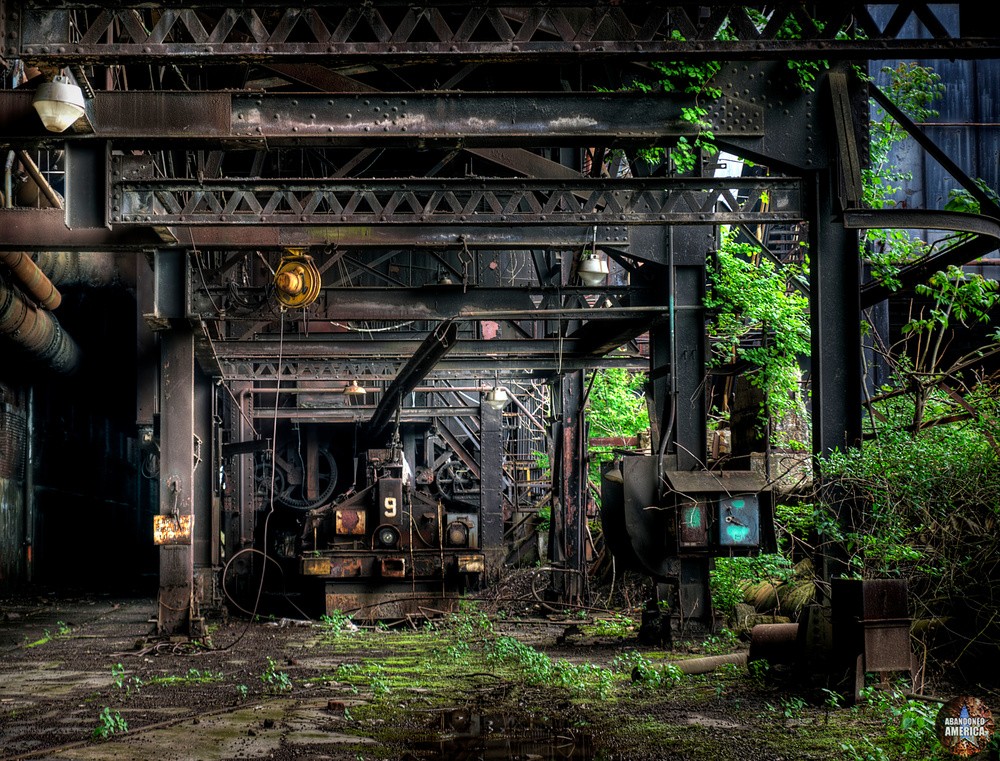 The structure around and in front of the car is the framework of the Hoover-Mason Trestle. Contrary to popular believe, the name has nothing to do with US President Herbert Hoover. Instead, the name comes from the Chicago engineering firm that designed the ore handling system for the plant in the first decade of the twentieth century. The trestle supported a broad (7'10.5") gauge railroad track and a standard gauge railroad track which brought raw materials to the blast furnaces. The broad gauge track ran to the ore yard while the standard gauge track connected to the coke works and outside rail network.
- information provided by the
National Museum of Industrial History
--------------------------------
Photograph taken in 2009 at the abandoned Bethlehem Steel complex in Bethlehem PA by Matthew Christopher of Abandoned America. The Bethlehem Steel site has since been incorporated into the Steel Stacks and Sands Casino.
This is one of three surviving "scale cars." They were built by Atlas Car & Manufacturing Company in Cleveland, Ohio and are electrically powered by an overhead third rail. These glorified hopper cars received iron ore, limestone, and coke from overhead bins. Using scales built into the cars, the material was weighed and loaded only to predetermined amounts. Once properly loaded, the scale cars moved down the track the skip pits (one per furnace), where the load was dropped into cars that traveled up an incline railway to the top of the blast furnace, where the material, called a charge, was dropped into the furnace.
Comments
By Blake Bean:
I grew up in Bethlehem from 55-62 but memories are always there - I remember the sounds of the mills and the trains and whistles - it saddened me when the steel company closed - haven't been back for several years to see the change to the city but plan to this year