Church of the Transfiguration (Philadelphia, PA) | more than a palace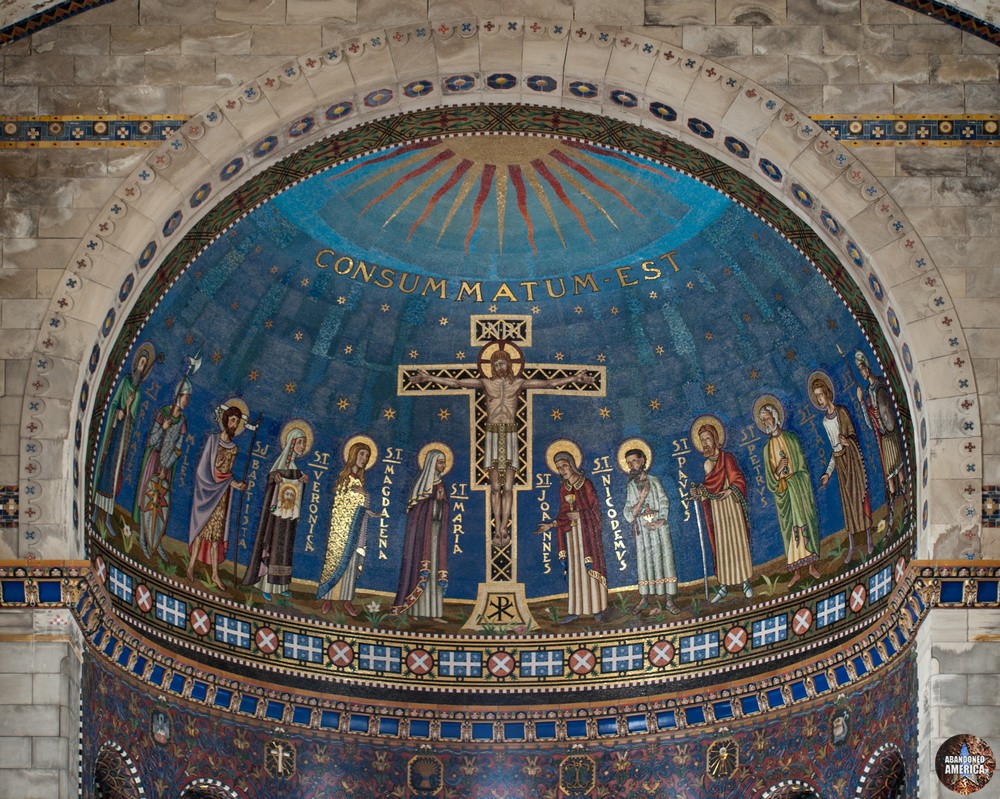 I was also fortunate to be able to attend 8 years at Transfiguration's school and could not have asked for a better education. The church and the school actually consisted of 4 city blocks. It was quite a sight to see. Some of my fondest memories at that time in my life were when the nuns would take the class to the church to participate in many religious services such as the Stations of the Cross every Friday during Lent. Even as a child as we stopped in front of each Station, as beautiful as the church was, I can remember being disappointed because the statues were draped in a purple cloth to symbolize the meaning of Lent. My disappointment was not being able to visualize the statues that were so detailed that they appeared to be life-like, but there were so many other times that I was able to appreciate their beauty in their entirety. Every May there would be a May Procession to honor the Blessed Mother and the whole school would line up in the school yard and proceed around the school and church in their best attire and to make it even more special, the little girls would wear a wreath on their head or a veil if they had recently received their first Holy Communion. The procession took several hours but would climax with the crowning of the Blessed Mother statue - what a sight to see! I am also so proud to have received my first Penance, first Holy Communion and Confirmation in the Transfiguration parish. I will also never forget how proud my mom & dad were the day my baby sister was christened there in such a magnificent setting. The services were always very emotional to me as well as the hymns that were sung either by the students or the choir. Just to be in the atmosphere to me seemed like Heaven. I feel blessed that I had the opportunity to experience this when I did and am very saddened that the Transfiguration church was demolished. It seems like such a crime to destroy something that gave so much good and beauty to so many people. It certainly is one of my best God-given memories In my life time."
Text contributed by Alice E. Mozer Farnsworth
Church of the Transfiguration, Philadelphia PA.
If you'd like to learn more about this location, it is a featured chapter in the book "Abandoned America: The Age of Consequences," which you can
order signed copies of here.
It's also available (unsigned) through
Amazon
/
Barnes & Noble
/
Powells
/
Indiebound
/
Booksamillion.
You may also be interested in my new book,
Abandoned America: Dismantling the Dream, available on Amazon
,
Barnes & Noble
, and many other online booksellers across the globe.
Photographs/unattributed text by Matthew Christopher of Abandoned America.
"I have so many fond memories of the Transfiguration church, the parish where I grew up in Phila., PA. There was a lower church as well as the more exquisite church upstairs. I can remember the long winding, very wide, concrete steps leading up to the church's entrance on both sides. When I was a child it seemed like it took forever to get from the bottom step to the top step before entering what seemed to be a magnificent palace. Now as an adult I realize that it was much more than a palace. The beauty of the church upon walking through those humongous front doors was absolutely breathtaking. The paintings on the ceiling, mostly above the altar, alone was an exquisite sight to see. I was always in awe of them and often wonder how anyone could paint something as elegant as that so high above on the church's ceiling. God must have definitely had a hand in this.